---
FREE RESOURCES
in an ezine
Get news of the latest games, book reviews, articles and more that have been added to the website.
Are you a member of Pivotal Gold?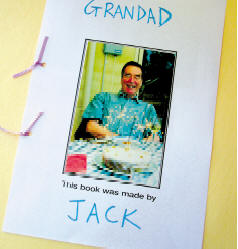 Help your child make a book
about Grandpa (or another older friend or relative). When itís finished it will make a great gift to give to Grandpa.
Pivotal Kids Book
Bad Kitty
| | |
| --- | --- |
| | by Nick Bruel |
Kindergarten-Grade 3
Ostensibly about a cat that turns bad when her family runs out of her favorite food, this is really a clever alphabet book for kids old enough to appreciate the way words work. It will appeal to youngsters who like their stories more naughty than nice.
The tale opens with Kitty learning that her owners have run out of cat food and that her only options are healthy and nutritious edibles that run the gamut from Asparagus to Zucchini. She reacts by doing an A-to-Z list of mischievous things, like claw[ing] the curtains and hurl[ing] hair balls at our heads. When her owners return with food that ranges from An Assortment of Anchovies to Baked Zebra Ziti, Kitty realizes she must atone for her bad behavior with a final list of alphabetical deeds such as cleaning the cat box and washing the car.
While the story is packed with colorful cartoon illustrations that introduce each object, it is Kitty who steals the show with her slyly drawn feline expressions. The illustrations are charming (I especially like the little fang kitty develops when she becomes bad) The book is intended for slightly older alphabet-book fans, and the need to use the whole alphabet results in a broader vocabulary than is found in most children's books. It offering will attract readers with a taste for the ridiculous. There's so much going on here that kids will find lots to laugh about
It is wonderful for reading aloud (especially when the boys provide Kitty's sounds effects, e.g. "hack, hack!"), and the opportunities to point out someone else's outrageously bad behavior are very welcome to my pair of naughty small fry.
Book activities, related books, websites
---
Indian in the Cupboard Study Guide

Omri receives several conventional gifts for his ninth birthday, including a
longed-for skateboard. However, two gifts you would expect to be of least
interest to a young boy prove to be magical and exciting. Suitable for
primary aged students this study guide has learning outcomes in key learning
areas such as English, Art and Society and Environment.