---
FREE NEWSLETTER
---
Get news of the latest games, book reviews, articles and more that have been added to the website.

(We do not share, give or sell email addresses)
---
FREE RESOURCES
in an ezine
Are you a member of Pivotal Gold?
Pivotal Kids Book
Emmy and the Home for Troubled Girls
by Lynne Jonell

Illustrated by Jonathan Bean
Ages 9-12
When readers first met Emmy Addison, star of Lynne Jonell's warmly received middle-grade novel Emmy and the Incredible Shrinking Rat (Holt, 2007), she appeared an ordinary 10-year-old having a rough go of it. Her calm and cozy life had been turned on its ear when her parents inherited a family fortune. The girl hardly saw her globe-trotting and suddenly uncaring parents, and was instead left in the care of a sinister nanny. She became virtually invisible to her teacher and classmates, and to cap it all off, she was bitten by the class pet,
a rat.
But that fateful nibble, which enabled Emmy to understand everything the rat said, is where Emmy's—and readers'—real adventures began, in a tale of action, science experiments, magic and suspense.
Now, Emmy, a likeable mixture of Nancy Drew and Dr. Dolittle, is set to embark on a new adventure in a sequel, Emmy and the Home for Troubled Girls
---
Read an excerpt http://www.lynnejonell.com/books/emmy_two/emtg03.html
Visit the author's website http://www.lynnejonell.com/index.html
Make your own drawings that Move
How to create Flipbook Animations in PowerPoint
---
Indian in the Cupboard Study Guide

Omri receives several conventional gifts for his ninth birthday, including a
longed-for skateboard. However, two gifts you would expect to be of least
interest to a young boy prove to be magical and exciting. Suitable for
primary aged students this study guide has learning outcomes in key learning
areas such as English, Art and Society and Environment.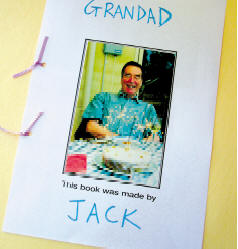 Help your child make a book
about Grandpa (or another older friend or relative). When it's finished it will make a great gift to give to Grandpa.