---
FREE NEWSLETTER
---
Get news of the latest games, book reviews, articles and more that have been added to the website.

(We do not share, give or sell email addresses)
---
FREE RESOURCES
in an ezine
Are you a member of Pivotal Gold?
Pivotal Kids Book
Guinness: World Records 2009

Guinness World Records 2009 continues to build on the intriguing, informative, inspiring and instructional records and superlatives that have made Guinness World Records one of the most famous brands and an annual best-seller around the world.

This year, we've created a revolutionary new design and filled it with more records than ever before. And the 2009 edition will have two gatefold spreads and over 20 pages of special records all with 3-D photos, which can be viewed with enclosed 3-D glasses!!

Combined with a new, research-tested, eye-catching cover, over 1,000 new records and 100% new photos, this year's edition once again sets out to be the best Guinness World Records book ever!!
---
Activities to do with Guinness World Records
Lesson plan on the marriage of the world's tallest man in Guiness book of world Records
Research Lesson plan on flooding and other disasters using record books
---
Indian in the Cupboard Study Guide

Omri receives several conventional gifts for his ninth birthday, including a
longed-for skateboard. However, two gifts you would expect to be of least
interest to a young boy prove to be magical and exciting. Suitable for
primary aged students this study guide has learning outcomes in key learning
areas such as English, Art and Society and Environment.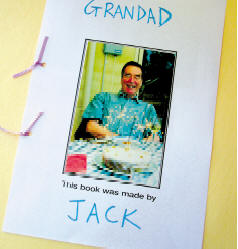 Help your child make a book
about Grandpa (or another older friend or relative). When itís finished it will make a great gift to give to Grandpa.