---
FREE RESOURCES
in an ezine
Get news of the latest games, book reviews, articles and more that have been added to the website.
Are you a member of Pivotal Gold?
Pivotal Kids Book
One Boy
| | |
| --- | --- |
| | by Laura Vaccaro Seeger |
A CLASSIC IN THE MAKING FROM THE 2008 CALDECOTT HONOR WINNER
ONE BOY is a perfect example of why Kirkus Reviews calls Laura Vaccaro Seeger the "emerging master of the concept book"—a die-cut book exploring counting and words-within-words, and the power of art and imagination. At the start, readers see a sad boy surrounded by empty, lonely chairs. At his feet is a bag with paint brushes peeking out. The text reads "ONE boy" which—with a turn of the page and a look through a cleverly cut hole—turns into "all alONE." Page after page, the book becomes populated with seals, apes, and monkeys, all examples of words-within-words. Finally, we come back to "ONE boy" who is "all dONE," and we discover where all the characters came from.
---
Indian in the Cupboard Study Guide

Omri receives several conventional gifts for his ninth birthday, including a
longed-for skateboard. However, two gifts you would expect to be of least
interest to a young boy prove to be magical and exciting. Suitable for
primary aged students this study guide has learning outcomes in key learning
areas such as English, Art and Society and Environment.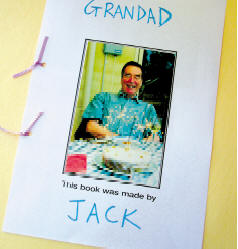 Help your child make a book
about Grandpa (or another older friend or relative). When it's finished it will make a great gift to give to Grandpa.