---
FREE RESOURCES
in an ezine
Get news of the latest games, book reviews, articles and more that have been added to the website.
Are you a member of Pivotal Gold?
Pivotal Kids Book
Remember As You Pass Me By
| | |
| --- | --- |
| | by L. King Perez |
Silvy's twelfth birthday is coming up and she wants to invite Mabelee, who's African American, to the party. However, Silvy's mother and grandmother object. "Mabelee has her own friends," they tell her, and even though Silvy and Mabelee were best friends when they were little, that time has passed. Mabelee has new friends and no time for Silvy. They're busy painting the old school and raising money for schoolbooks, and Mabelee has started calling her "Miss Silvy" whenever they meet. Silvy's not alone for long, though. Glamorous Allie Rae moves to town with her mother, and she and Silvy like all the same things — "dying stories, riding trees, and talking dirty in disguise." Silvy thinks she's found a friend her mother and grandmother will like, but even Allie Rae has some tacky things to say about Mabelee and her friends, and Silvy's not sure who to side with. Things come to a head when the Supreme Court desegregates the schools, and Silvy's small Texas town is in an uproar. Where will Silvy stand?
"Remember As You Pass Me By" has themes which resonate far beyond East Texas and the turmoil between races provoked by "Brown vs. the Board of Education." This is a story of how relationships stressed in the face of change can transcend or fail, often at the same time. How faith can be restored amid confusion, and love endures for better or worse. How families shape and make us who we are and friendships often define us. This is all told with a straight, matter-of-fact sense of humor and narrative so real you can smell the baloney frying in the pan.
"This story gripped my childhood memories and held them captive to the very end. I was told this is a story for youngsters, yet I believe every adult will benefit from reading it."
---
Indian in the Cupboard Study Guide

Omri receives several conventional gifts for his ninth birthday, including a
longed-for skateboard. However, two gifts you would expect to be of least
interest to a young boy prove to be magical and exciting. Suitable for
primary aged students this study guide has learning outcomes in key learning
areas such as English, Art and Society and Environment.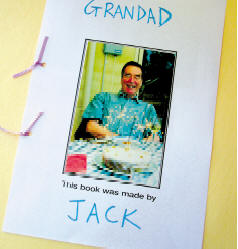 Help your child make a book
about Grandpa (or another older friend or relative). When it's finished it will make a great gift to give to Grandpa.