---
FREE RESOURCES
in an ezine
Get news of the latest games, book reviews, articles and more that have been added to the website.
Are you a member of Pivotal Gold?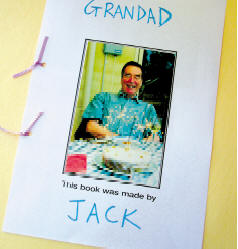 Help your child make a book
about Grandpa (or another older friend or relative). When itís finished it will make a great gift to give to Grandpa.
Pivotal Kids Book
Stinky
(Toon Books)
| | |
| --- | --- |
| | by Eleanor Davis |
One of the honorees for the 2009 Theodor Seuss Geisel Award, recognizing the most distinguished books for beginning readers.
Early reader. 4-8
From the Reviews:
Deep in the swamp dwells Stinky, a purple, spotted monster with horns and a hedgehog do. Stinky lives up to his name, and the swamp is the perfect place for him: I love the mushy, mucky mud. / I love the slimy slugs. / And I love the stinky smell! / (SNIFF) AHHHH... But on the other side of the swamp is the town, which is full of children, who like to take baths! When a little boy builds a treehouse in Stinky's swamp, he tries everything he can think of to drive the disgustingly clean creature out until he discovers that this particular child is definitely a kindred spirit.
Davis also doesn't write down to her audience, automatically spelling everything out. I appreciated that if you read between the lines there s a story about Nick's family and recent changes in it that you can pick up on, by way of example.
The winning story carries itself on spunk and a controlled vocabulary that combines judiciously chosen sight words (onion, gross) with easily sounded-out words (slimy slugs!) that will have emerging readers in stitches Davisí colorful art makes Stinky and his swamp delightfully attractive to young readers.
Itís impressive that Davis can draw characters like Wartbelly the toad in a way that makes her clearly smelly and slimy, but at the same time actually cute. (The little hearts around her head when Nick first meets her had me laughing for a couple of minutes.) The little details that she adds into each page couldnít help but make me fall in love with her art, from the animals cheering on the sidelines as Stinky comes out of the pit, to the sleeping possums snoring away while Stinky stomps by. Each page has a nice little touch just waiting to be discovered, all drawn in Davis s soft, warm style.
---
Read an interview with Eleanor Davis and fellow TOON Books creators Dean Haspiel and Jay Lynch here.
Lesson plans for TOON Books, including Stinky, are available here.
If you want to own this book, please support my website by buying it using the Amazon link, or you can join the Pivotal Gold book club and ask for this book for free....
---
More books in the Toon Books series
Indian in the Cupboard Study Guide

Omri receives several conventional gifts for his ninth birthday, including a
longed-for skateboard. However, two gifts you would expect to be of least
interest to a young boy prove to be magical and exciting. Suitable for
primary aged students this study guide has learning outcomes in key learning
areas such as English, Art and Society and Environment.