Reading App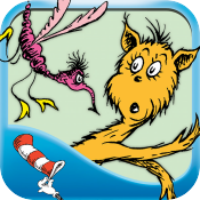 I had trouble in getting to Solla Sollew
by Dr. Seuss
Publisher: Oceanhouse Media
Release Date: Aug. 7, 2013
Price: $3.99
In classic Dr. Seuss fashion, the hero in "I Had TROUBLE in getting to SOLLA SOLLEW" learns that trying to get away from your troubles can often lead to even bigger ones!
The story begins with the young narrator discouraged by everything that is going wrong lately. He stubs his big toe, gets his tail bitten by a Quilligan Quail and is stung by a Skritz. Faced with one hilarious challenge after another, he leaves his troubles behind and heads off to the city of Solla Sollew, "Where they never have troubles! At least, very few." Come along and see all the new obstacles he faces on his journey to get to Solla Sollew!
"And I learned there are troubles
Of more than one kind.
Some come from ahead
And some come from behind."
New features only available in this omBook include professional narration, background audio and enlarged artwork for each scene. To promote reading in young children, individual words are highlighted as the story is read and words zoom up when pictures are touched. By combining the original text and artwork of Dr. Seuss with features that entertain and promote reading, this omBook appeals to readers of all ages.
Recommended ages: 3 - 9
SPECIAL iOS FEATURES:
* Record your own voice

* Share voice tracks with others that own this app

* Page selector

* Retina main menu

* New options for sound effects, hot spots and alerts
Three ways to read this omBook (Oceanhouse Media digital book):
* "Read to Me" — listen to the narrated story with words highlighted as they are read

* "Read it Myself" — read the book in its traditional form

* "Auto Play" — plays like a movie, automatically reading and turning pages. Great for younger children!
Additional Features:
* Picture / Word association — words zoom up and are spoken when pictures are touched

* Individual words highlight and are read aloud when tapped

* Professional audio narration

* Custom background audio for each scene

* Pages pan & zoom to accentuate the beautiful, original art of Dr. Seuss

* This 'Universal App' is optimized for Retina displays and the iPad
FREE NEWSLETTER
Get news of the latest games, books, articles and more that have been added to the website.
The latest
More for Kids
More resources