A Treasury of Irish Stories
This book is a good read-aloud. Because a number of the words will be unfamiliar to children, it is not well suited for independent reading, although some of the individual stories are. What makes this collection of 17 tales unique is that the stories include both retellings of traditional tales and original contemporary tales by well-known Irish storytellers. This is a relatively small, softbound book with modest, but clever, black and white illustrations.(Kingfisher, 1995. ISBN: 1856975959)
The St. Patrick's Day Shillelagh
This picture storybook for 8-12 year olds is about the importance of passing on family stories and traditions from one generation to the next. Janet Nolan tells the story of young Fergus who immigrated to the U.S. with his family during the potato famine. His story and the shellelagh he carved from the branch of a favorite tree are shared every St. Patrick's Day. Ben Stahl's realistic paintings lend a feeling of authenticity to the story. (Albert Whitman & Company, 2002. ISBN: 0807573442)
JAMIE O'ROURKE AND THE BIG POTATO
by Tomie dePaola
PaperStar
ISBN: 0698116038
Ages 3-8
32 pages
It's a good thing that Jamie O'Rourke is married to a hardworking woman, because he is the laziest man in Ireland. And when his wife injures her back, Jamie wonders how he'll get by, having to do things for himself. Luckily, a leprechaun gives Jamie a magic seed that grows into the biggest potato anyone has ever seen. Pretty soon, the whole village is up to its eyeballs in potato dishes, as they find ways to cook the monster spud.
Jeremy Bean's St. Patrick's Day
by Alice Shertle, Illustrated by Linda Shute
Shy Jeremy Bean forgets, much as to his humiliation, to wear green to school for St. Patrick's Day.
LEPRECHAUN GOLD
by Teresa Bateman
illustrated by Rosanne Litzinger
Holiday House
ISBN: 0823413446
Ages 4-8
32 pages
When Donald O'Dell saves a leprechaun's life, he's entitled to the greatest reward: a pot of gold. But Donald turns the gift down. Unfortunately, the leprechaun won't accept no for an answer and finds all sorts of funny and clever ways to give Donald his gold prize.
A Leprechaun's St. Patrick's Day
by Sarah Kirwan Blazek, Illustrated by James Rice
Five little leprechauns set out to make mischief for a rather large family during the St. Patrick's Day parade.
O'Sullivan Stew: A Tale Cooked Up in Ireland
by Hudson Talbott
The king's men take a beloved horse from an outcast witch but the Crookhaven community doesn't know what to do. Kate O'Sullivan, her two brothers and father take matters into their own hands, determined to return the horse to it's rightful owner. Unfortunately, they get caught trying to take the horse back and are sentenced to hang for their deeds. Kate cooks up a delicious story to save their lives.
Patrick : Patron Saint of Ireland
by Tomie De Paola, illustrated by Tomie dePaola
A brief, straight forward summary of the known facts about the saint's life.
The Ring of Truth : An Original Irish Tale
by Teresa Bateman, illustrated by Omar Rayyan
When Patrick O'Kelly brags that his blarney exceeds that of the king of the leprechauns he finds himself suddenly without the ability to fib, boast, exaggerate, embellish, or lie. How will he ever make his living as a salesman, much less win the county's blarney contest?
Shamrocks, Harps, and Shillelaghs: The Story of the St. Patrick's Day Symbols
by Edna Barth, Illustrated by Ursula Arndt
Who was St. Patrick? And what do leprechauns, shamrocks, shillelaghs, and reed pipes have to do with it? These questions and more are answered about this early spring holiday.
St. Patrick's Day
by Dorothy Rhodes Freeman
Describes the celebration of Saint Patrick's Day which honors the patron saint of Ireland.
Tim O'Toole and the Wee Folk : An Irish Tale (Picture Puffins)
by Gerald McDermott
When the evil McGoons trick Tim O'Toole out of his fortune, he teams up with his benefactors, the Little People, to regain his treasure.
Ages 9-12
The End of the Rainbow: A Story about the Meaning of St. Patrick's Day
by Louise Mandrell
First a mysterious shamrock appears on Miss Wink's front door. Then Kate and Mickey find a sign on their new clubhouse: "The Green Shamrock Gang Was Here." Will the Dixon twins be able to solve this mystery?
Let's Celebrate St. Patrick's Day : A Book of Drawing Fun
by Pamela Johnson
A simple how-to-draw guide using St. Patrick's Day as its theme.
Mary McLean and the St. Patrick's Day Parade
by Steven Kroll, Illustrated by Michael Dooling
"In 1849, the potato famine forces Mary's family to leave their farm in Ireland and cross the ocean to settle in a basement room in New York City. Living in the drab surroundings, Mary dreams of the grand St. Patrick's Day parade, in which their local storekeeper, Mr. Finnegan, drives a gaily decorated horse-drawn cart. Mary can ride in the cart only if she finds a shamrock--an unlikely event, given the snow-covered ground. The appearance of a leprechaun finally helps her fulfill her dream."
The St. Patrick's Day Shamrock Mystery
by Marion M. Markham, Illustrated by Karen A. Jerome
First a mysterious shamrock appears on Miss Wink's front door. Then Kate and Mickey find a sign on their new clubhouse: "The Green Shamrock Gang Was Here." Will the Dixon twins be able to solve this mystery?
Parent Helps
Easter & St. Patrick's Day Thematic Unit
by Keith Vasconcelles, Illustrated by Cythia Holzschuher, Sue Fullam
This book is geared to teach ages 9-12 and is based on the following pieces of literature: Leprechauns Never Lie, The Tale of Peter Rabbit. This reproducible resource is filled with ready-to-use lessons and cross-curricular activities. Also included are management ideas, creative suggestions for the classroom, and a bibliography.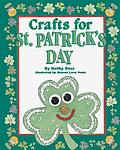 CRAFTS FOR ST. PATRICK'S DAY (Holiday Crafts for Kids)
by Kathy Ross
illustrated by Sharon Lane Holm
Millbrook Press
ISBN: 0761304479
Ages 4-8
48 pages
This book provides twenty projects that you can make from basic household materials. If you are looking for a special project this St. Patrick's Day, why not check out this step-by-step illustrated holiday craft book?

MRS. MCCOOL AND THE GIANT CUHULLIN: An Irish Tale (Books for Young Readers)
by Jessica Souhami
Henry Holt & Company
ISBN: 080506852X
Ages 4-8
32 pages
Cuhullin is a legendary giant, and he believes that he is the strongest in the world. In order to prove that he's the strongest, he must defeat another giant --- Finn McCool. Finn decides to ask his wife Oona for advice in helping him outwit Cuhullin. Oona develops a plan for Finn, but you'll have to read the book to find out which giant wins!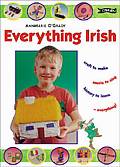 EVERYTHING IRISH
by Annemarie O'Grady
illustrated by Stella Kearns
The O'Brien Press
ISBN: 086278557X
Ages 4-8
80 pages
Learn all things Irish in this fun book. You'll learn about Ireland's past and about life there today, while making Celtic-style jewelry!


SAINT PATRICK AND THE PEDDLER
by Margaret Hodges
illustrated by Paul Brett Johnson
Orchard
ISBN: 0531070891
Ages 4-8
40 pages

A poor, kind peddler owns a cast-iron pot which is inscribed with a saying he can't read. After St. Patrick visits him in his dreams, the peddler heads to town and finds someone who can translate his pot. It says "Here I stand, old and good, With something better under me." With this kind of clue, he digs underneath his house to find a fortune in gold.

A CHILD'S TREASURY OF IRISH RHYMES
compiled by Alice Taylor
illustrated by Nicola Emoe
Barefoot Books
ISBN: 190228318X
All ages
Straight from the Emerald Isle comes this collection of traditional Irish verse. Playful, pretty and just plain interesting, you'll love to read aloud these poems with old-fashioned Irish flavor. From fairies ("The Fairy Shoemaker") to elves ("The Little Elf Man") to animals ("The Thin Cat"), there's something here to delight almost everyone.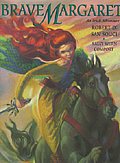 BRAVE MARGARET: AN IRISH ADVENTURE
by Robert D. San Souci
illustrated by Sally Wern Comport
Simon & Schuster
ISBN: 0689810725
Ages 5-10
40 pages
Margaret is a beautiful and strong woman who runs her own farm in County Donegal. But she's grown tired of her ordinary life and longs for adventure. So when a tall ship docks in the harbor just below her property, Margaret begs the captain, King Simon, to go along with them. Soon Margaret has more adventure than she bargained for --- after a big storm, Margaret is separated from the ship's crew and comes eye-to-eye with a sea serpent. After her ordeal she is washed ashore and taken in by a woman who turns out to be a witch. Can Margaret outwit her and save the day? Find out in this rousing book.
PATRICK: Patron Saint of Ireland
by Tomie dePaola
Holiday House
ISBN: 0823410773
Ages 4-8
32 pages
This look at the life of Saint Patrick also contains five of the best-known legends that have been written about him, including the story of how he rid Ireland of snakes.
SAINT PATRICK
by Ann Tompert
illustrated by Michael Garland
Boyds Mills Press
ISBN: 1563976595
Ages 5-up
32 pages
This picture book biography focuses not on the legends about St. Patrick but on letters he wrote and the few facts known about his life. But even without the Irish stories about him, Patrick's life is plenty exciting. He was sold into slavery by pirates as a boy, and later heard voices calling him to do the work of God and convert the Irish people to the Catholic faith.
ST. PATRICK'S DAY
by Gail Gibbons
Holiday House
ISBN: 0823411737
Ages 3-8
32 pages
In simple text and bright illustrations, Gibbons fills us in on the life of this saint and why and how we celebrate his special day. You'll find legends, shamrocks and shillelaghs galore.
THE LAST SNAKE IN IRELAND: A Story About Saint Patrick
by Sheila MacGill-Callahan
illustrated by Will Hillenbrand
Holiday House
ISBN: 0823414256
Ages 4-8
32 pages
According to the old Irish legend, one of the greatest things St. Patrick ever did (before he became a saint) was to drive all the snakes away from Ireland. In this feisty picture book we find Patrick doing battle with the one snake who refused to go. Patrick finally finds a way to trick the snake and sinks him in Loch Ness in a locked box. But is that the end of the story? No way. Years later when Patrick checks up on the naughty snake he finds it has grown into....the LOCH NESS MONSTER!
THE HOUSE GOBBALEEN
by Lloyd Alexander
illustrated by Diane Goode
Puffin
ISBN: 0140565043
Ages 5-9
Tooley is always complaining. He thinks he's got the worst luck in the world, and he rarely sees the bright side of things the way his chipper cat Gladsake does. When a little chubby man shows up at Tooley's door, he thinks it's one of the Friendly Folk (same as Wee Folk) come to bring him some good luck for a change. Tooley invites the little man in, only to find out he's a greedy monster who won't leave! Luckily Gladsake has a plan to get rid of the monster and save the day. Find out what it is when you read this book.
THE IRISH CINDERLAD
by Shirley Climo
illustrated by Loretta Krupinski
HarperTrophy
ISBN: 0064435776
Ages 5-9
32 pages
This picture book set in Ireland gives the traditional Cinderella story a fun twist. Becan, an Irish boy, has a miserable time living with his new, cruel stepmother. So he decides to run away. As he travels the countryside, he meets a magical bull who helps him slay a dragon and rescue a princess. But before the princess can thank Becan for his kindness, he disappears, accidentally leaving one of his boots behind. What do you think happens next?
JAMIE O'ROURKE AND THE POOKA
by Tomie dePaola
Putnam
ISBN: 0399234675
Ages 4-8
32 pages
Jamie O'Rourke, "the laziest man in all of Ireland," is back in this funny tale about a magical Pooka (a kind of animal spirit/ghost) who pays a nighttime visit to Jamie's cottage.
O'SULLIVAN STEW:
A Tale Cooked Up in Ireland
by Hudson Talbott
Putnam
ISBN: 0399231625
Ages 4-8
Kate O'Sullivan and her family are in a tough spot. They've been accused of horse stealing. They were really just trying to return an already-stolen horse to its rightful owner. But in the process, they've made the king and a local witch very angry. Now the O'Sullivans are sentenced to hang. Luckily, quick-thinking Kate has a plan. She creates a batch of colorful stories so clever they earn her family's freedom.
TIM O'TOOLE AND THE WEE FOLK
by Gerald McDermott
Puffin
ISBN: 0140506756
Ages 4-8
Tim O'Toole is the poorest of farmers --- until he meets a group of jolly "Wee Folk," little magical people (think leprechauns) who bring good luck, and often star in Irish fairy tales and legends. The Wee Folk supply Tim with a magic duck and a napkin that always holds all the food Tim and his wife can eat. But when the greedy McGoons trick Tim out of his gifts, the Wee Folk step in to help their friend retrieve his fortune.
HARP O' GOLD
by Teresa Bateman
illustrated by Jill Weber
Holiday House
ISBN: 0823415236
Ages 4-8
32 pages

Tom is a minstrel traveling the Irish countryside barely scraping by on the money he earns from playing his harp. He's sure he could make more money if he had a fancier looking harp. That's when leprechaun Sean O'Dell magically appears, offering Tom a harp made of gold. The expensive instrument brings om more money, but not happiness --- or even great sounding music. Find out how he fixes the problem in this original Irish tale.