FREE -
resources weekly from
the Pivotal Network
I will never give your details to anyone for any reason
Pivotal Kids Book
Robot Riot! (Schooling Around!)
by Andy Griffiths
Robots are running amok in Northwest Southeast Central school! It all started as a harmless science experiment meant to prove whether or not the new girl in school was in fact a robot. But now a robot of a different kind is chewing up the hallways and causing panic not seen in this area since Schooling Around #3!
What are the students at Northwest Southeast Central going to do? RUN!
And what are readers going to do? LAUGH!


About the Author
Andy Griffiths is the New York Times Bestselling author of the day My Butt Went Psycho! Zombie Butts from Uranus!, Butt Wars!: The Final Conflict, What Buttosaur Is That?, Just Stupid!, Just Wacky!, Just Annoying!, Just Joking! And Just Disgusting!. He lives in Australia with his wife and kids.
Released: April 15 2009
Publisher: Scholastic Paperbacks
Ages: 9-12
Themes: funny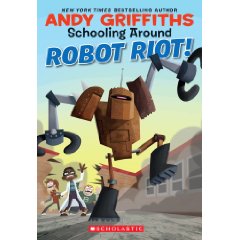 Buy the book
$7.50
Picture Books Illustrating the value of Participation
The Patricia Wrightson Award for Children's Literature
The Most Frequently Challenged Books of 2008
The 2008 Skipping Stones Honour Awards

The movie, the book with many lesson plans and activities, the map, the games and the toys
Join the Pivotal Book club and get free books, ebooks and more...