FREE -
resources weekly from
the Pivotal Network
I will never give your details to anyone for any reason
Pivotal Kids Book

How Do You Wokka-Wokka?
by Elizabeth Bluemle
Illustrated by
Randy Cecil
ISBN-13: 978-0763632281
Released: August 11 2009
Publisher: Candlewick
Ages: 4-8
Themes: rhyme, dance, read-aloud
List price: $15.99 Price: $12.40
Say "HEY!" to your neighbors and get your dance on! Jazzy rhythms, silly rhymes, and welcoming images are guaranteed to entice little readers.

Some days you wake up and you just gotta wokka. Wokka what? Wokka-wokka! Itís about movement. Itís about dance. Itís about shimmy-shakiní, be-boppiní, and more! Itís about gathering friends and joining the party. The creative team behind MY FATHER THE DOG returns with a call-and-response for preschoolers, an exuberant invitation to be part of the fun ó and show your stuff!
AAbout the Author
Elizabeth Bluemle is the author of DOGS ON THE BED, illustrated by Anne Wilsdorf, and MY FATHER THE DOG, illustrated by Randy Cecil. Elizabeth Bluemle lives in Vermont, where she co-owns The Flying Pig Bookstore in Shelburne.

Randy Cecil is the illustrator of MY FATHER THE DOG by Elizabeth Bluemle; ONE IS A SNAIL, TEN IS A CRAB by April Pulley Sayre; and David Elliottís NEW YORK TIMES bestseller AND HERE'S TO YOU! He is also the author-illustrator of GATOR AND DUCK. He lives in Houston, Texas.
Buy the book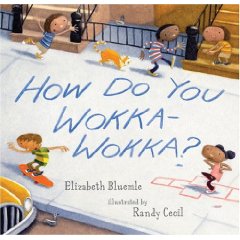 List price: $15.99
Price: $12.40
Picture Books Illustrating the value of Participation
The Patricia Wrightson Award for Children's Literature
The Most Frequently Challenged Books of 2008
The 2008 Skipping Stones Honour Awards

The movie, the book with many lesson plans and activities, the map, the games and the toys
Join the Pivotal Book club and get free books, ebooks and more...